[Book Review] More Salt Than Pepper by Karan Thapar
25 Apr 2011
Share on:
[caption id="" align="alignright" width="129"]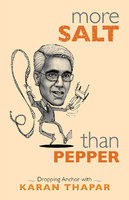 [/caption]
If you have missed Karan Thapar's articles in HT either because of you were not born or were too young to understand or read or your interest developed late or for any other reason, then please read this book.
This book is a selection of the best columns written by him over the last eleven years.The columns range from the author's perceptive portraits of politicians and celebrities to his reflections on the state of the media and the peculiarities of the English language. He also turns the gaze on himself—sharing with us his eccentricities, his foibles and anecdotes about himself and his family, including his late wife Nisha. There are also pieces here about his Doon and Cambridge days and vignettes from his travels to cities near and far.
I rate it 5/5. I really love these kind of books.