[Book Review] Whiteout by Ken Follet
19 Jun 2011
Share on:
[caption id="" align="alignright" width="138"]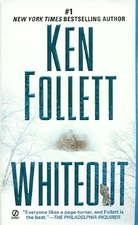 [/caption]
Author: Ken Follett
First Published: 2004
Genres: Thriller, Fiction
After a long time I read a fiction and it happened to be my first Ken Follet. It was thriller and what a thriller it was – fantastic, gripping, page turning and un-put-down-able. What is more noteworthy is the way he builds the characters – the ones who you would like to have with you always, the ones who will make your blood boil with rage, the ones who have a soft touch, and ones that are hard enough. In any case, they will all mesmerise you and will not let you put down the book until and unless they have unfold their stories to you and you are part of their story.
It is Christmas Eve, and it is all happening in Oxenford Laboratories somewhere inScotland– a lethal virus stolen, death of a lab technician and later dozen vials of a lethal virus are stolen from the lab. It is all happening and happening too very fast and to the dismay of Toni Gallo, head of security at Oxenford Labs. The stolen viruses placed in a perfume bottle are ready for use and are capable of decimating the entire population of the country but can severe the relationship between Toni and her boss and chief of the laboratory Stanley Oxenford. Stanley Oxenford, aged about sixty, is a widower and has three children – Kit, Olga, and Miranda. Kit, his prodigal son, is back in the house for the party but no one knows what his real intentions are. How the night turns into a nightmare and how they all resolve everything is the story with a subtle and beautiful story of Craig and Sophie.
Follet has fantastically converged biological terrorism, romance, sadism and family dysfunction and carved out an amazing thriller drama. My rating 3/5.