Journalists and their Journalism - Damned and Doomed
14 Jul 2011
Share on:
[caption id="" align="alignright" width="160" caption="Image via Wikipedia"]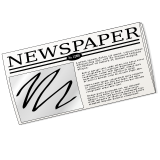 [/caption]
It is not long ago that we were discussing how journalists in India and Japan differ when it come to journalistic ethics. We praised Japanese for not showing any scenes of the horror, the trauma, and the human suffering inflicted by the tsunami. We talked and wrote about how we wanted that Indian journalists do the same and newspapers and news-channels have some sense of humanity and responsibility.
We talked and wrote a lot about it and thought this and thought these knowledgeable persons, with a power of pen in their hand will have a note of it next time (God forbid) any such event happens. The event happened - three blasts in Mumbai - and the same old journalistic drama begun. The Hindu, which I religiously follow, was not far behind and published the pictures saying:
Scores of people were injured, some critically, as blasts struck Dadar, Zaveri Bazaar and Opera House areas of Mumbai within minutes of each other on Wednesday evening.
Some of the pictures of people injured or killed in the Mumbai bomb explosions may cause distress to readers. They are being published to show the horror, the trauma, and the human suffering inflicted by the terrorist attacks.
What a joke? They have no sensibility but have all the ability to get sensationalise the things.
May they (journalists) all be damned and doomed and go to HELL and their souls never RIP.