Air India and Its Future
28 Sep 2011
Share on:
[caption id="" align="alignright" width="240" caption="Image by BriYYZ via Flickr"]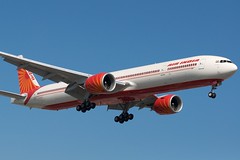 [/caption]
Air India is India's national flag carrier. Over the years it has lost its fervour and there has been plenty of reforms to make it work and bring it out of the losses it has incurred.  It is continuously facing financial crisis. For instance see the following figures:-
As of March 2011, Air India has accumulated a debt of Rs. 42,570 crore (approximately $10 billion) and an operating loss of Rs. 22,000 crore, and is seeking Rs. 42,920 crore from the government [1].
For the past three months (June, July, August, 2011), the carrier has been missing salary payments and interest payments and Moody's Investor Service has warned that missing payments by Air India to creditors, such as the State Bank of India, will negatively affect the credit ratings of those banks [2][3].
A report by the Comptroller and Auditor General (CAG) blamed the decision to buy 111 new planes as one of the major causes of the debt troubles in Air India; in addition it blamed on the ill timed merger with Indian Airlines as well [4].
These facts prove that unfortunately none of the efforts to revive have fared well and it keeps on adding to its losses. Despite this, the government doesn't seem to have lost faith and is not ready to give up. It is still trying to reform it. However, it should be kept in mind that reforming something that malfunctions without understanding why doesn't it work can only make things worse.  There have been many efforts and we have tried different approaches and all the experiments have failed. Now, is the time to take definitive steps to remove the burden of a lame horse from the shoulders of the tax-paying citizens.
There is no scarcity of aviation companies in India. Moreover,  Air India is not even a low cost carrier that is serving any social welfare activity like railways. Aviation industry is going through a tough time itself with every carrier facing losses. Why add to the number by continuing a government business in that field and use tax-payers money to revive an organisation that has several times indicated that its time has passed? Government's belief in immortality and inability to abandon its programmes, policies and institutions long after they are unnecessary and their need disappeared has contributed to its non-performance. Exit of Air India from the market by way of disinvestment will give the other aviations companies more space to 'fly'.
Time is ripe that Air India should be wrapped up. Government has itself repeated many a times that it wants to play a role of an enabler than a doer. Therefore, the government should focus on what it can do the best i.e. making policies and enabling and regulating the market, being the director and not the actor. Government should take a final call and remove itself from the business that has no social interest but only social and administrative costs.
References:
1. http://www.livemint.com/2011/08/09002707/Air-India8217s-recurring-de.html
2.  http://www.livemint.com/2011/08/09002707/Air-India8217s-recurring-de.html
3. http://www.moodys.com/credit-ratings/State-Bank-of-India-credit-rating-718330
4. http://online.wsj.com/article/SB10001424053111904836104576558101182208210.html
Related articles